[vc_row type="in_container" full_screen_row_position="middle" scene_position="center" text_color="dark" text_align="left" overlay_strength="0.3″][vc_column column_padding="no-extra-padding" column_padding_position="all" background_color_opacity="1″ background_hover_color_opacity="1″ width="1/1″ tablet_text_alignment="default" phone_text_alignment="default"][vc_column_text]Six finalists have been selected from a record pool of nearly 100 applicants to compete in the What's the Big Idea 48-Hour Launch annual entrepreneurial competition. They will have only two days to kick start their own businesses during an intense startup boot camp. This is the 10th year that The Development Corporation of Knox Co. has held this contest and is excited to have given $10,000 in business expense reimbursement to new businesses in East Tennessee.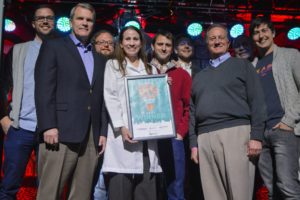 "For ten years, this competition has helped to identify, support and celebrate some of our region's most unique and innovative businesses entrepreneurs and their ideas," said Todd Napier, CEO of The Development Corporation of Knox Co., and metaphorical godfather of What's the Big Idea. "Small startups have always, and will continue to play a significant role in making Knoxville unique and its economy strong and diverse."
"What's the Big Idea is an amazing opportunity to make months of progress in one weekend," said Jonathan Sexton, entrepreneur in residence at the Knoxville Entrepreneur Center. "We give these entrepreneurs access to the best business talent in the region for 48 hours. It's exciting, it's exhausting, and it's a ton of fun."
The weekend-long program will begin on Friday, April 13 at 6 p.m. with the selected participants pitching their ideas to an audience of specialists and mentors. They will then be assigned a team to help them move their ideas from concept to launch-ready over the next two days. The finale pitch event will take place on Sunday, April 15  at Scruffy City Hall from 6 – 8 p.m.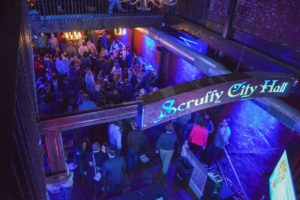 During the finale, each of the six finalists will pitch their refined ideas to a panel of judges and an overall winner will be selected. The winner will receive a Big Idea Launch Package, which includes access to $10,000 in startup reimbursement costs, office space, and complimentary business services.
"This year's group of finalists is really great," Sexton said. "As a whole, the ideas represent a unique cross-section of industry sectors, and even more importantly showcase a variety of communities that make our city great."
What's the Big Idea 48-Hour launch is presented by The Development Corporation of Knox County,  the Knoxville Entrepreneur Center, and Harper Auto Square. The program is designed to inspire entrepreneurial action at the local level.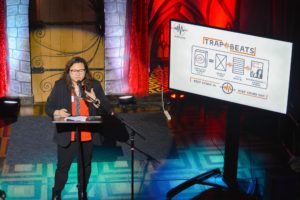 "Knoxville has many examples of large companies that began and grew here because someone with a vision for how to do something better and with the passion to convert their vision into a business of national and international significance," says Napier. "What's the Big Idea is still going strong as a launch pad for entrepreneurs and their big ideas, and could very well result in one of Knoxville's next big success stories."
[/vc_column_text][nectar_btn size="medium" open_new_tab="true" button_style="regular" button_color_2="Accent-Color" icon_family="none" url="https://www.eventbrite.com/e/whats-the-big-idea-finale-tickets-44339031236″ text="Sounds awesome! I want to RSVP for the finale!"][/vc_column][/vc_row][vc_row type="in_container" full_screen_row_position="middle" scene_position="center" text_color="dark" text_align="left" overlay_strength="0.3″][vc_column column_padding="no-extra-padding" column_padding_position="all" background_color_opacity="1″ background_hover_color_opacity="1″ width="1/1″ tablet_text_alignment="default" phone_text_alignment="default"][vc_column_text]
The Finalists:
Electro-Active Technologies-

Alex Lewis –

"a system that enables companies to convert their own waste into low-cost, renewable hydrogen.

"
Volfluence-

Michael Newton – "

a Gen-Z focused marketing solutions company that helps brands generate attention and exposure through leveraging the social status of micro-influencers to create large scale word of mouth campaigns."
Tribe Rising-

Ashleigh Huffman

 – "

gives sports fans a chance to win tickets, autographs, & apparel while giving back to the game they love! By donating to win, fans will support the launch of sports leagues in developing countries & underserved neighborhoods in the U.S. #Fans4Good"
Houselink-

Chris Ayala –

 "Like CarFax for your home. Houselink actively manages your most important investment, so you can enjoy living in it."
Note-Ster-

Ja'keena Dillard – "

A user-friendly, engaging learning platform that middle & highschool teachers & students use to view, share, & store helpful tips, links, & videos they find online by using the power of crowdsourcing & social networking to connect the global learning community

."
Inky Boys Soap Company

Mason Crockett 

– "

Inky Boys Soap Company makes hand-crafted bar soap using recycled fats and all-natural essential oils that clean and nourish skin."
[/vc_column_text][nectar_btn size="medium" open_new_tab="true" button_style="regular" button_color_2="Accent-Color" icon_family="none" url="https://www.eventbrite.com/e/whats-the-big-idea-finale-tickets-44339031236″ text="RSVP for WTBI Finale"][/vc_column][/vc_row]