Everyone meet Cliff Caudill! Cliff has extensive experience in product development for John Deere and currently serves in a dual capacity as a KEC and SCORE Mentor. Check out Cliff's answers to our questions below. Cliff is offering multiple opportunities to sign up for office hours, so make sure to sign up today!
---
What is your name and where do you work?
Cliff Caudill and I am the Chair of SCORE Greater Knoxville. SCORE is a NonProfit part of the SBA (Small Business Administration) that provides free mentoring to small businesses and nonprofits.
What is your background?
I grew up in Maryland and Florida with education at Western Maryland College. I moved to Knoxville in 2016 my eighth and hopefully last move after a 39 year career in John Deere's Construction & Forestry Division where I lead product development and marketing of forest harvesting equipment. My responsibilities started with Customer research and followed development of new products to their sales to Customers.
I assisted my wife in the purchase of a small business making unique vinegars which operated for two years before its operation ended with John Deere move!
What is your favorite thing about Knoxville? 
It has to be thingS! A right size city. Great restaurants, craft breweries, recreation and a great climate and support network for small businesses.
What is your favorite tv show or movie?
Monty Python's The Life Of Brian.
Are there any podcasts that you listen to that are business related?
Probably strange….but not a Podcast person.
Do you have a favorite radio station or playlist that you listen to while you work?
Strange playlist….Bruce Cockburn, Adele, Jefferson Airplane, Pink Floyd, Over The Rhine, Phosphorescent, John Fullbright, Willie Nelson.
Favorite coffee shop in Knoxville?
Remedy
What inspired you to become an entrepreneur?
I am not an entrepreneur….but assist them in developing their ideas into businesses.
What is something that is essential when selling yourself or your business?
Confidence and a deep understanding of Customer needs.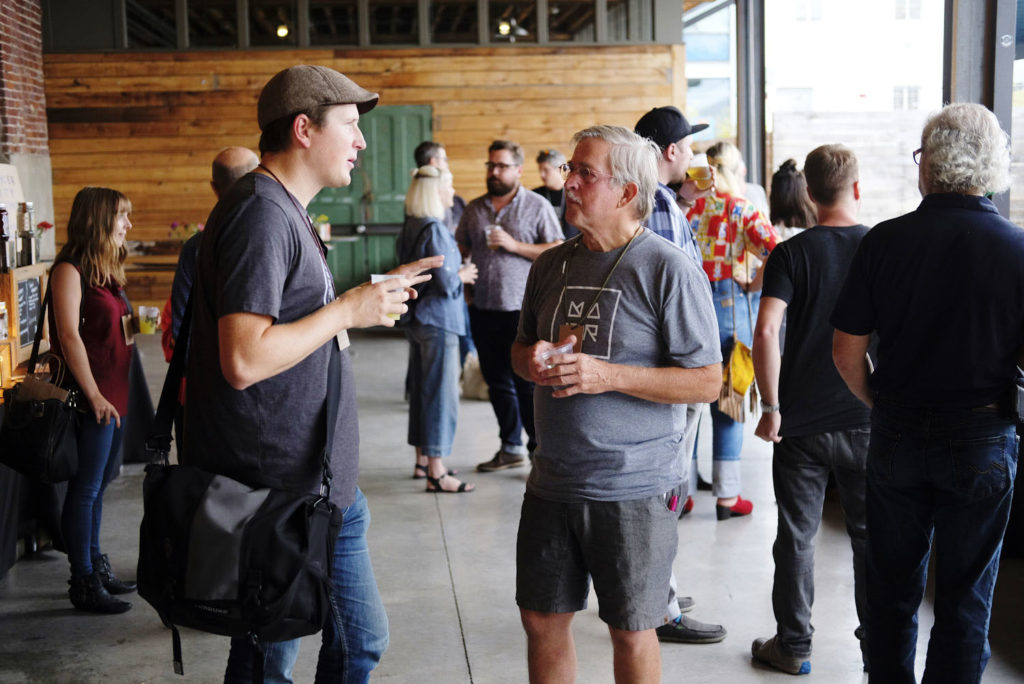 What do people usually forget when starting a business?
Understanding cash flow
If you could have dinner with someone dead or alive, who would it be? (role model)
Joseph Campbell.
What is your biggest lesson learned from being an entrepreneur/business person?
Know your Customer and your Competition! Understanding both is key.
Why is Knoxville such a great place for new businesses, startups, and entrepreneurs?
Great support for Small Businesses and entrepreneurs. Knoxville Entrepreneur Center, SCORE, TN Small Business Development Center and Knoxville Area Urban League and Knox Chamber. All of us work together to support Knoxville Entrepreneurs and Businesses.
How do you manage your work-life balance?
My daughter once worried about the hours I worked. She expressed concern several years before I retired…..Told her not to worry as I had cut back to half days… 6am to 6pm!
Why is having a mentor important?
There are many reasons a mentor is important. A mentor brings not only their education and experience to the table, but the experiences of the many entrepreneurs they have worked with.
Do you have a mentor?
In my career I had a number of them.
What is the most important skill to have as a business owner?
Understanding the Customer, number 1 and knowing the business financials number 2.
If you could have any job in the world, and money wasn't an issue, what would you do?
I really wouldn't trade what I did in my career for anything else. It was a right fit. A great feeling looking back at being a key to developing John Deere's forest harvesting product line from on product line with 3 models to 9 product line with 45 models.
What have you learned from being a mentor?
Tough question! Number one is to really understand your mentee, their vision and what drives them, then provide them guidance in developing their path.
Sign up for office hours with Cliff HERE!