Haseeb is a Tennessee licensed attorney and technical founder with roots in music and design. 
He
 is currently an Attorney at Morehous Legal Group, where he counsels and advises numerous businesses. 
He
 is also the CEO of Audiohand, a music technology startup specializing in crowdsourcing audio. This week we asked Haseeb a series of questions about his experience as an entrepreneur and a mentor.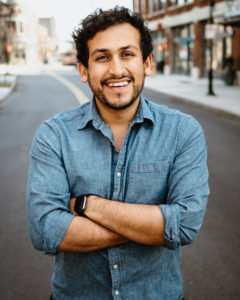 What is your name and where do you work?
Haseeb Qureshi (they call me "HQ"), and I'm an Attorney and Entrepreneur in Residence at Morehous Legal Group, a boutique business law firm. I myself particularly focus on startup law, working with businesses and founders at all stages and in all sorts of industries.
What is your background? (School, field, interests, projects, etc.)
Keeping this is as succinct as possible: grew up in Northern Virginia, attended Carnegie Mellon University in Pittsburgh PA, graduated with a double major in Business and Psychology. Took a year off to pursue music management, recorded a ton of other people's music. Got into law school and attend the University of Tennessee College of Law, which is what brought me down to Knoxville.
Managed a top rate mastering studio in Los Angeles, CA (The Mastering Lab, RIP Doug Sax) between my second and third years of law school. Met my future wife in my last year of law school (no, she's not a lawyer – she's a pre-k teacher in the Lonsdale community). Started a web development business out of law school, got to work with most agencies in town, even the City of Knoxville on its website redesign, and some other great folks in town.
Started a music technology company called Audiohand after going through the TN's first digital media accelerator at the KEC. I've taught entrepreneurship to middle schoolers and high schoolers through the Knoxville Chamber, and I'm lucky to get to hear amazing stories, a wide variety of ideas, and get to be around some amazing people here in Knoxville.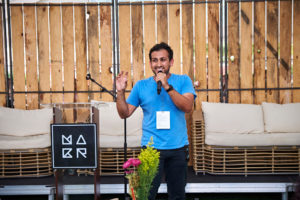 What is your favorite thing about Knoxville?
There's a lot to cover! But the one thing that's not discussed often enough, is how great of a local government we have. Not only is our local government responsive and in tune with the needs of its constituents, it's responsive and approachable, and cares about keeping folks happy and engaged with life. Couple that with a great statewide emphasis on transportation and infrastructure and no income tax, I'm proud to say Knoxville, TN is my home.
What is your favorite tv show or movie?
Favorite movie of all time is "Jerry Maguire"; with my favorite tv show, I'm going to split it between 3 platforms: "New Amsterdam" on network tv, "Walking Dead" on AMC and Netflix, and "Jack Ryan" on Amazon Prime.
Are there any podcasts that you listen to that are business related?
Typically like NPR's "How I Built This". But really, this is going to make me sound super boring, I like to listen to Bloomberg News on SiriusXM.
Do you have a favorite radio station or playlist that you listen to while you work?
Spotify for years. Depending on my mood and what I'm working on, I'll sometimes loop one song for hours. If it's not that, I like going through albums on repeat (lately, it's been Radiohead's "Kid A", Black Pistol Fire's "Deadbeat Graffiti", and ODESZA's "In Return". And when I'm feeling "new new", I'll go listen to my "Daily Mix" and get some new music worked onto my radar.
Favorite coffee shop in Knoxville?
Oh man, it changes. Lately, I've been really digging Shaun and Meg's Wild Love Bakehouse on Central. For years, I've gone in deep with the LaMacchia's KBrew on Broadway. And when I want to "get away", I'll find some random Starbucks and pretend like I'm on the road.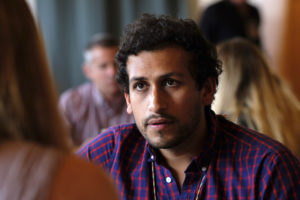 What inspired you to become an entrepreneur?
Being able to create value that wasn't there. I've seen this all my life, from my successful grandfather in Pakistan (whenever we visited, no I grew up in the States), to my parents. My dad's an accountant who started his own CPA practice, and my mom's always been designing. I remember me and my brother helping my mom print, cut, and tag her shopping labels onto her clothes whenever my parents were going to a tradeshow. It was all hands on deck! There's something magical about being able to create something that wasn't there, having other people enjoy that creation, and getting rewarded for the whole process. It's just amazing to me, and I knew from such a young age that I wanted to do that, and to be around it, at all times. In this country, you have the change to do anything – my parents taught me that, and luckily helped me aspire to become someone who can help show that to others.
Check back for more questions and answers from HQ!
To sign up for office hours with Haseeb, head over to Schedule an Appointment.
Connect with Haseeb on LinkedIn!