NorthSouth Productions – Mark Hickman: A Guest Blog by Kelly Hastings
Located in the quaint Emory Place Historic District of Knoxville, Tennessee, NorthSouth Productions' role in the media industry is anything but outdated and old-fashioned.  Boasting well-known clients such as History, TLC, Discovery, TruTV, A&E, Food Network, Sundance, Speed and Travel Channel, NorthSouth is a major player in the national media market.  With two other offices in New York and Atlanta, NorthSouth helps put Knoxville on the map for cable television producers and consumers across the country.   
NorthSouth has produced many notable television series since its inception in 2000, including the popular show Say Yes to the Dress: Atlanta, which chronicles women's attempts to find the perfect wedding gown at Bridal's by Lori, the nation's largest full service bridal salon.  The show is produced for TLC and is in its ninth season.  The comedy series Impractical Jokers capitalizes on hidden cameras and outrageous public pranks performed by four childhood friends and members of comedy troupe The Tenderloins.  On April 1st, 2014, the group performed on The Today Show, posing as an up and coming boy band.  Impractical Jokers is in its fifth season and airs on TruTV.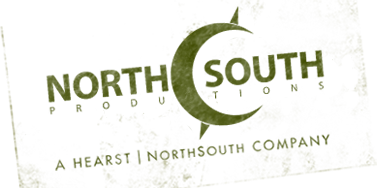 Before either of these shows were dreamed up, Co-founder, CEO, and Knoxville native Mark Hickman was working for Ross Bagwell, the man Hickman credits with  "singularly creating" the media production industry in Knoxville.  Hickman and partner Charlie Debevoise, who also worked for Bagwell, founded NorthSouth Productions with two corporate offices, one in New York and one in Knoxville.  For the past fifteen years, Debevoise has managed the New York office, and Hickman has managed the Knoxville one.  A production office in Atlanta was eventually added to meet the company's growing needs.  In 2012, The Hearst Corporation, one of the world's largest privately held media companies, purchased 50% of Northsouth Productions.  
Today, NorthSouth continues to devote most of its resources to television programming, while also experimenting with newer media platforms.  Say Yes to the Dress: Atlanta and Impractical Jokers are the biggest current projects, but the company is also pursuing digital initiatives, including a 24-episode contract with YouTube for a new project.  According to Hickman, the media production industry is approaching a new frontier.  The business model for the future has not been established yet.  Hickman states, "Traditional network-based programming is changing rapidly, and no one knows where it is going exactly.  Every start-up, every medium-sized company like ours, and NBC are all trying to figure that out right now."  He goes on to say, "The future of Game of Thrones and cat videos is certain.  Whatever medium they distribute it with, eyeballs will find it."  Game of Thrones is so popular that the show will be consumed regardless of distribution platform.  However, the series is so costly to produce that it is not economically feasible to make enough of the product to fill all of the cable network space.  In contrast, people will also continue to make cat videos because they are so cheap and easy to produce.  The remaining question involves the great middle ground: game shows, reality shows, soap operas, etc.  What type of programming will there be and how will it be funded?  Recognizing that cable television is an "800 pound gorilla," Hickman plans to continue exploring this unknown middle ground through traditional media programming, while also dabbling in digital initiatives.  In our ever-changing technological society, Hickman cautions, "Don't throw your TV's out yet!"
Like many successful entrepreneurs, Hickman's only regret is that he did not start sooner.  He provides encouragement to entrepreneurs wishing to enter the digital media field, claiming that "now is the time for an entrepreneur in this industry."  Because of technological advancements, production equipment is much cheaper than it used to be, drastically lowering barriers to entry.  With start-up costs so low, "two folks in their basement" have nearly as much opportunity to produce media as more established industry gurus.  Furthermore, Hickman suggests that young people may have a competitive advantage over more experienced media businessmen because they are in touch with the new technology, and perhaps more importantly, the new distribution platforms.  For all entrepreneurs living in our budding city, Mark Hickman, Charlie Debevoise, and NorthSouth Productions are living proof that you don't have to leave the comforts of Knoxville to do big things and have an economic impact on a city, state, and national level.