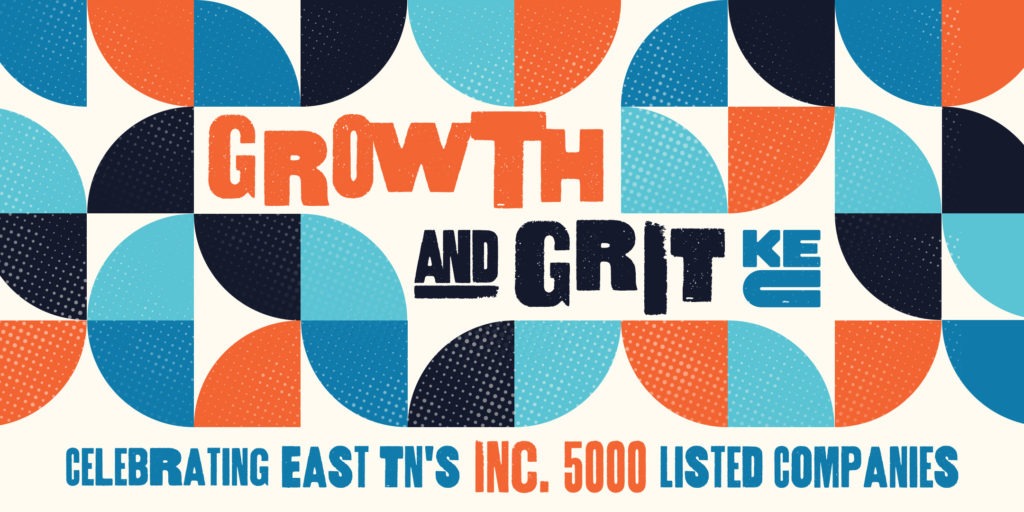 Growth & Grit | Celebrating East TN's Inc. 5000 Listed Companies
Lighthouse Knoxville | Monday, November 14th, 2022
Event Program
Location: Lighthouse Knoxville, 6800 Baum Dr, Knoxville, TN 37919
5:00 PM Event Opens 
5:30 PM Opening Remarks & Introduction of Companies
5:45 PM Round table Discussion with Companies
7:00 PM Open Networking
7:30 PM Event Ends
Conversation Prompts
What qualities define great leadership?
What is an obstacle that you've had to face in 2022?
How has 2022 been different from previous years for you and your company?
If you're new to the Inc. 5000 list, what changed in 2022? What pushed you ahead as a company?
What do you think are the essential ingredients to success?
Are there any books, websites, or other resources you would recommend?
What do you see as challenges ahead, and what is your company doing to prepare?
StoragePug | No. 575
Self-storage software provider allowing owners to make the most of their investment, attract tenants and simplify the rental experience.
Avertium | No. 781
A security partner for over 1,200 organizations with a programmatic approach to cybersecurity that protects assets and manages risks.
Axle Logistics | No. 1,207
Third-party logistics company providing North American customers a safe, reliable carrier network with the expertise of a multi-national company.
Boldsquare | No. 1,512
Multidisciplined strategy and communications company counseling executive leadership in high-pressure situations through growth, crisis and comprehensive change.
'58 Foundations | No. 1,702
Basement waterproofing, crawlspace encapsulation and foundation repair company developing a waterproofing system that provides long-lasting protection.
Boston Government Services | No. 2,107
Engineering, technology and security firm providing services to governmental programs including nuclear operations, national laboratories and national security.
Avero Advisors | No. 2,107
Enterprise technology firm specializing in resource planning consultation, process analysis and redesign, strategic planning, implementation services for government organizations.
Keystone Mortgage Group | No. 3,154
Mortgage company focused on providing the best experience by building win-win relationships with team members, business partners and clients.
Ole Smokey Distillery | No. 3,222
Leading craft distiller of premium moonshine offering more than 25 creative moonshine flavors and 17 inventive whiskey flavors globally.
RCN Technologies | No. 3,222
5G and LTE network solutions helping commercial, public sector and nonprofit organizations to better connect coast to coast.
KaTom Restaurant Supply | No. 3,222
Wholesale distributor offering thousands of commercial restaurant, kitchen and bar equipment and supplies, many available for next-day delivery.
K & P Enterprises | No. 3,222
Home improvement company specializing in cabinet refacing, windows and closet systems and providing installation services through Home Depot.
Perfectserve | No. 4,748
Company providing a clinical communication and coordination platform connecting physicians, nurses and care team members across inpatient and outpatient facilities.
Priority Ambulance | No. 4,879
Provides EMTs, paramedics, nurses and support teams to deliver exceptional patient care and customer service to 630,000 patients each year.