(January 19, 2022, Knoxville, Tenn.) Courtney Hendricks has been named Director of Maker Initiatives for the Knoxville Entrepreneur Center (KEC.)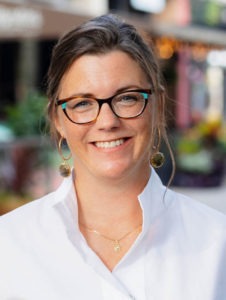 Courtney is a versatile marketing and design veteran with extensive leadership and event planning experience. For more than ten years, she has brought her wide-ranging expertise to a variety of creative businesses, both supporting their initiatives with her own skill set and encouraging the growth and creativity of each person she works with. Her experience includes Art Director at Design Sensory; Creative Director at Best Behavior Creative Club; and most recently in-house Brand Manager at Blackberry Farm, where her responsibilities included overall brand strategy, art direction, content creation, outside partnerships, social media management, employee development, photo/video styling and production, and e-commerce communications.
She has served as Programming Chair on the boards of both the American Institute of Graphic Arts and the American Advertising Federation Knoxville, and was VP and Communications Chair for the PTO at Mead Montessori School. 
Chris McAdoo, KEC's Director of Strategy and Engagement, said that with Hendricks on board in the newly-created position, KEC is officially bringing in executive-level management talent. "Courtney brings not only creativity and a willingness to dive in, she brings tactical experience in terms of literal productions, events, and management of people and process in a way that we're so lucky to have. It's going to allow us to set a strategic vision that is two, five, ten years in the future and put a permanent stamp on The Maker City."
Hendricks said she is looking forward to supporting the Mayor's Maker Council and pushing its initiatives forward. "There is so much happening within our creative community. I hope to facilitate connections, promote a culture of inclusivity, and aid in building a strong support system for Knoxville's Makers. I love being a part of this imaginative and energized group, and I am excited about what I can offer and all that I can learn."
Contact: Courtney Hendricks, Director of Maker Initiatives,
courtney@knoxec.net
Linked In: courtneymhendricks