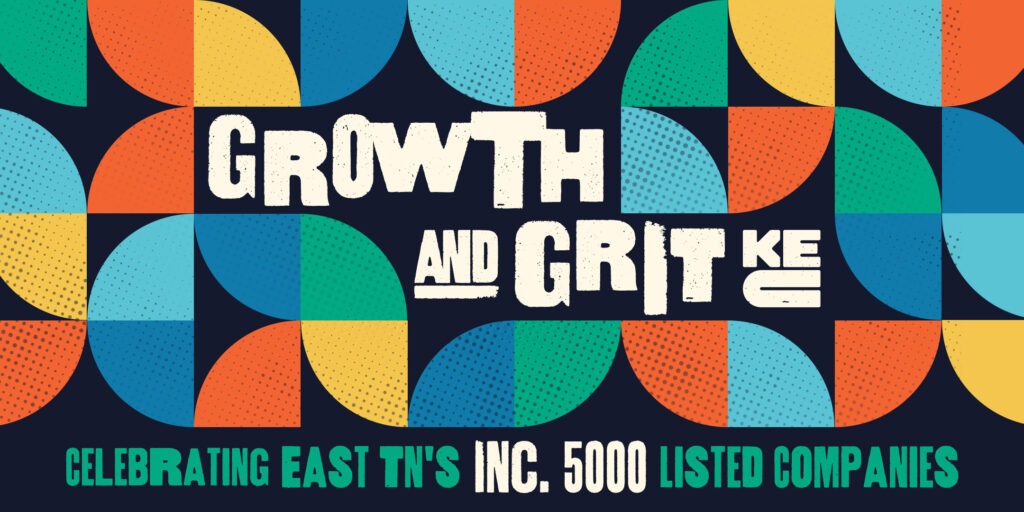 Growth & Grit | Celebrating East TN's Inc. 5000 Listed Companies
Southern Railway Station | Tuesday, November 14th, 2023
Event Program
Location: Southern Railway Station, 306 W Depot Ave, Knoxville, TN 37917
5:00 PM Event Opens 
5:30 PM Opening Remarks & Introduction of Companies
5:45 PM Keynote Speaker: Harry Boston 
6:00 PM Round table Discussion with Companies
7:00 PM Open Networking
7:45 PM Event Ends
StoragePug | No. 782
Self-storage software provider allowing owners to make the most of their investment, attract tenants and simplify the rental experience. 
Axle Logistics | No. 847
Third-party logistics company providing North American customers a safe, reliable carrier network with the expertise of a multi-national company.
'58 Foundations & Waterproofing | No. 1,993
Basement waterproofing, crawlspace encapsulation and foundation repair company developing a waterproofing system that provides long-lasting protection.
Smart RIA | No. 2,118
Software platform that manages complex requirements of regulatory compliance for the U.S. financial advice industry. This is Smart RIA's first time on the list! 
Mountaineer Cleaning and Maintenance | No. 2,952
A rental property cleaning and maintenance company serving the Smoky Mountains, handling inspections, linens, lawn care and small remodeling projects. This is Mountaineer Cleaning and Maintenance's first time on the Inc. 5000 list! 
Ole Smokey Distillery | No. 3,215
Leading craft distiller of premium moonshine offering more than 25 creative moonshine flavors and 17 inventive whiskey flavors globally.
Boldsquare | No. 3,586
Multidisciplined strategy and communications company counseling executive leadership in high-pressure situations through growth, crisis and comprehensive change.
Avero Advisors | No. 3,690
Enterprise technology firm specializing in resource planning consultation, process analysis and redesign, strategic planning, implementation services for government organizations.
KaTom Restaurant Supply | No. 4,091
Wholesale distributor offering thousands of commercial restaurant, kitchen and bar equipment and supplies, many available for next-day delivery.
Design Innovation Architects | No. 4,479
Architectural firm creating innovative spaces that are artful, intelligent, sustainable and value-conscious with a passion enhancing quality of life.
Four Seasons | No. 4,643
Providing custom mechanical contracting solutions and services throughout the Tennessee Valley region, including HVAC systems for industrial and commercial facilities.
Harry L. Boston, Ph.D., is the Founder and President of Boston Government Services, LLC (BGS), an award-winning, technology, engineering and cybersecurity firm that provides solutions to the federal government and commercial energy sectors' most challenging missions. 
Dr. Boston is passionately engaged in efforts promoting equity, equality and opportunity for all, efforts promoting economic development, and efforts supporting innovative energy technologies.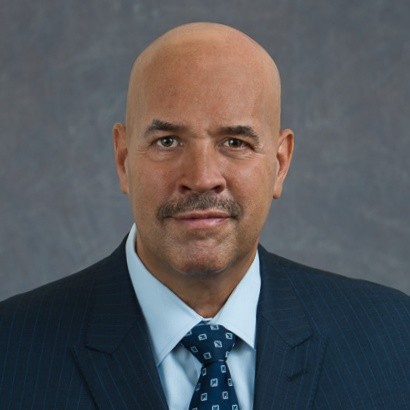 He is a board member of the Knoxville Area Urban League, the East Tennessee Economic Council (ETEC), the Knoxville Chamber of Commerce, and the Fairview Technology Center. He volunteers and directly supports charitable organizations, organizations that promote entrepreneurialism, and organizations that promote STEM education and the well-being of our children.
Thank you to Insperity for being an event sponsor.